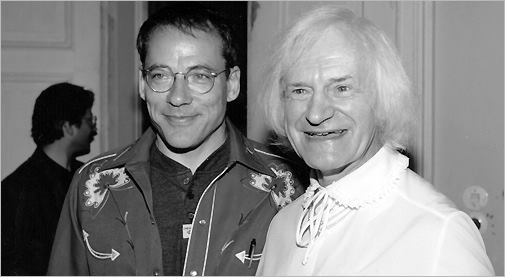 Third Street Theatre Partners with Association for German Education in Calgary for Free Film Screening
I Am My Own Women by Rosa von Praunheim
Hot off the heels of the sold-out run for Unsex'd by Jay Whitehead and Daniel Judes, Third Street Theatre announces a partnership with The Association for German Education in Calgary. The two organizations have teamed up for a free screening of the documentary-drama, Ich bin meine eigene Frau (I Am My Own Women) by Rosa von Praunheim.
The documentary explores the life, times, and triumphs of one of Germany's most controversial queer figures. Charlotte von Mahsldorf was the subject of Doug Wright's Pulitzer-prize winning play, I Am My Own Wife, which Third Street Theatre presented in April during its inaugural season. Paul Welch, Artistic Director of Third Street Theatre, brought the story to life in the 90-minute one-man show where he explored 36 distinct characters and 7 dialects. Paul went on to win the Calgary Critics Award for Best Solo Performance and was nominated for a Betty Mitchell Award for Best Actor in a Drama for his work.
"Last season, our production of I Am My Own Wife played to both critical and box office success," says Jonathan Brower, Artistic Producer of Third Street Theatre. "It is the story of Charlotte von Mahlsdorf, a German transsexual who survived the oppressive regimes of the Nazis during World War II and the Communists of East Berlin while preserving Germany's queer history in the basement of a museum that was her pride and joy. We look forward to sharing the documentary about her life with our patrons and friends, and to step once again into Charlotte's memorable life."
I Am My Own Women plays at 7:00pm at The Cardel Theatre, 180 Quarry Park Blvd. SE, Calgary, for one-night only in the original German with English subtitles on Wednesday, November 13th.
Admission is free with a donation to the Calgary Food Bank.