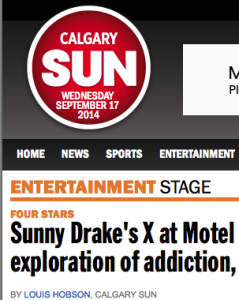 X is a "dazzling, unique, creative and innovative…a show conceived, created and performed by a gay artist but its reach and appeal are universal." – Louis B. Hobson, Calgary Sun
Click here to see the shining 4 STAR review from the Calgary Sun
Click here to see the great Calgary Herald review
International Touring Show Takes on Addiction and Fixations Hard to Quit
Projection, stop-motion animation, and puppetry combine in whimsical look at addiction as seen through the eyes of the LGBTQ community.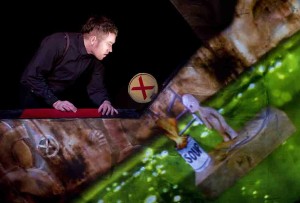 Third Street Theatre was thrilled to present the critically acclaimed X by Sunny Drake, a recent festival winner at Toronto's prestigious SummerWorks Festival currently on a cross-Canada tour. Sunny's one-man show is unique humorous and honest look at addictions and vices and is the first show in Third Street Theatre's 2014-2015 Season. A special matinee on Saturday, September 20th will include an American Sign Language interpreter (ASL). All performances are wheelchair accessible.
X is a magical, imaginative and honest look at addiction not to mention a multimedia feast by transgender artist Sunny Drake; a recent transplant to Canada from Brisbane.
Ever seen a drunk puppet? Sex. Booze. Facebook. Carbs…Fess up: what's your guilty pleasure? Stunning stop motion animation, whimsical puppets, and sharp live performance meld in this fast-paced international touring one-man show grounded in but not limited to LGBTQ experiences and informed by over forty interviews with community members (featuring struggles with alcohol, sex, and pop star obsession). With sold out shows in San Francisco, rave reviews in Australia, a SummerWorks festival award winner in Toronto and a cross-Canada tour, X comes to Calgary for a limited engagement of six performances.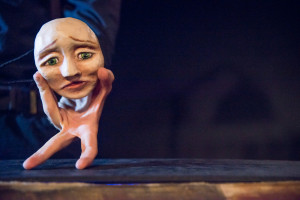 Creator Sunny Drake says of his show being included in Third Street Theatre's namesake 3rd season, "I am really thrilled to be doing work that is presented specifically by a queer theatre company, as much as I absolutely love non-queer presenters presenting my work, there is definitely something very special to entrust my work into the hands of queer theatre presenters. For me it's really important to be responsive to what local folks think will be received well and I really trusted Artistic Director, Jonathan Brower's opinion that X would be relevant, engaging and exciting for a Calgary audience."
Artistic Director Jonathan Brower says his love for the show emerged when he saw Drake's use of "distinct, unique puppetry and projection animation to relay the story of it's leading characters Jamie and Caitlin." The two are childhood friends dealing with issues related to sexuality, addiction, and gender identity. "Sunny morphs his own hands into realistic human puppets. Combined with his other multimedia, these scenic elements materialize into compelling representations of the characters' fleeting grasp on their behavior and their susceptibility in the face of substances and circumstances beyond their control."
Artistic Associate Alyssa Bradac says it is "important for our community to hear international voices and broaden our perspective because there is commonality amongst us all and X is a bold, creative and fresh look at issues that affect our community internationally." "It's also very theatrically exciting," adds associate Kyall Rakoz. "X demonstrates so perfectly what live performance can do that television can't. Drake's integration of puppets and projections is absolute magic!"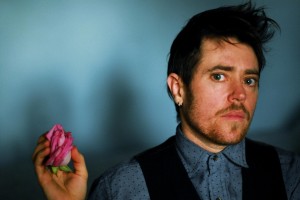 ***PUBLIC MENTORSHIP WORKSHOPS on Sept 21st.
TRANS* 101 & Telling Your Story facilitated by Sunny Drake.
Sunday, September 21st, 2014
1:00-5:30pm
Hillhurst United Church
1227 Kensington Close NW.
At the tail end of the Calgary run, Third Street Theatre and Hillhurst United Church have partnered to present two workshops by Sunny Drake Trans 101 and Telling Your Story.
TRANS* 101: 1:00pm – 3:00pm. Free Admission
An introductory workshop about trans* (transgender/ transsexual/ genderqueer) identities exploring different trans concepts and the diversity of trans communities including key strengths and challenges. Unpacking how gender concepts affect everyone in similar and different ways will show how trans liberation can be revolutionary for everyone. We will also explore the key political moment trans movements are in and how we can all be part of this exciting time. The workshop will create a space of genuine exploration, where every question is welcome.
TELLING YOUR STORY: 3:30– 5:30pm. Admission by donation (suggested $25)
A hands-on workshop to explore creating performance and/or writing from your own personal experience, including autobiographical work and fictionalized autobiography. We will explore processes, challenges, joys, ethical considerations and personal wellbeing/safety. Participants will be guided in short (low pressure!) creative activities to begin to generate their own written and/or spoken content. No prior writing or performance experience needed!