Calgary Sun Preview by Louis B. Hobson, October 28, 2013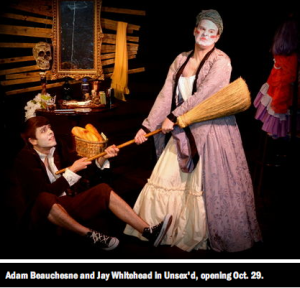 In just eight short months, Jay Whitehead's play Unsex'd has crossed the Atlantic twice and is preparing to dock in Calgary on Oct. 29 for a five-day run in the EPCOR Centre's Motel Theatre.
In March, Unsex'd was the winner of Calgary's Third Street Theatre's New Queer Theatre Playwriting Competition.
Written by Whitehead, the artistic director of Theatre Outre Lethbridge's gay theatre with Daniel Judes, Unsex'd takes a look at the curses and superstitions surrounding Shakespeare's Macbeth as seen through the eyes of a pair of boy-players.
These were the young men who played all the female roles in Shakespeare's plays and this pair is fighting a battle royal to play Lady Macbeth.
"Because much of the comedy in Unsex'd centres around the curses and superstitions associated with Macbeth, Halloween is the ideal season for it to play in Calgary," says Paul Welch, artistic director of Third Street Theatre which is co-presenting Unsex'd for its Calgary run.
He adds that though Unsex'd is "completely historically inaccurate, satirically biting and gratuitously crude, it does have a haunting dark side that questions fame, gender and the truth about beauty."
Unsex'd received a workshop in Calgary in March with director Kate Newby and was later produced in Lethbridge by Theatre Outre.
Its next stop was Ireland for the International Dublin Gay Theatre Festival where Whitehead won the festival's best actor award and was nominated for the Oscar Wilde Award for playwriting.
Then it returned to Canada for a run in Halifax at the Atlantic Fringe Festival where it was voted best of the festival. val.
Welch says "because Kate Newby asked so many poignant questions during the workshop, Jay saw that Unsex'd was meant to be more than just an uproarious comedy.
"There is a great deal of depth and insight as well."
In the Calgary production, Whitehead not only produces his script but stars opposite Adam Beauchesne.
Welch points out that "this is a Calgary premiere of a play that was nurtured here and is already an internationally celebrated work."
Performances are nightly at 7:30 p.m. with a 2 p.m. matinee on Nov. 2.
Seating is limited so it is advisable to reserve tickets in advance at epcorcentre.org.