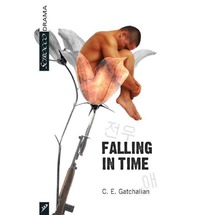 Kicking off the freshly released 2014-2015 Season and our new queerRites reading series:
Falling in Time by Chris Gatchalian
July 2nd, 2014 at The Naked Leaf at 8:15 pm
Tea donated by Jonathan Kane of The Naked Leaf. Admission by donation.
Raw in its emotionalism and bold in its theatricality, Falling in Time is set in Vancouver in 1994 and tells the story of four individuals, across two continents and over a span of more than forty years. The lives of these characters miraculously intertwine in Vancouver playwright C.E. Gatchalian's uncompromising meditation on war, masculinity, sexuality, personal boundaries, and love. Falling in Time asks the question, "how do we let go?"

Chris Gatchalian, Playwright

Born, raised and based in Vancouver, Filipino-Canadian author C. E. Gatchalian writes drama, poetry, fiction and non-fiction. His plays, which include Broken, Crossing, Claire and Motifs & Repetitions, have appeared on stages nationally and internationally, as well as on radio and television. Recent work includes his play for young audiences, People Like Vince, which was commissioned by Green Thumb Theatre and toured BC, Saskatchewan and Ontario, and his latest play, Falling in Time, which premiered in Vancouver in November 2011, was published by Scirocco Drama/J Gordon Shillingford in 2012 and was a finalist for the Lambda Literary Award. He is the 2013 recipient of the prestigious Dayne Ogilvie Prize, awarded annually by The Writers' Trust of Canada to an LGBT writer of merit. He is currently Artistic Producer of the frank theatre company.