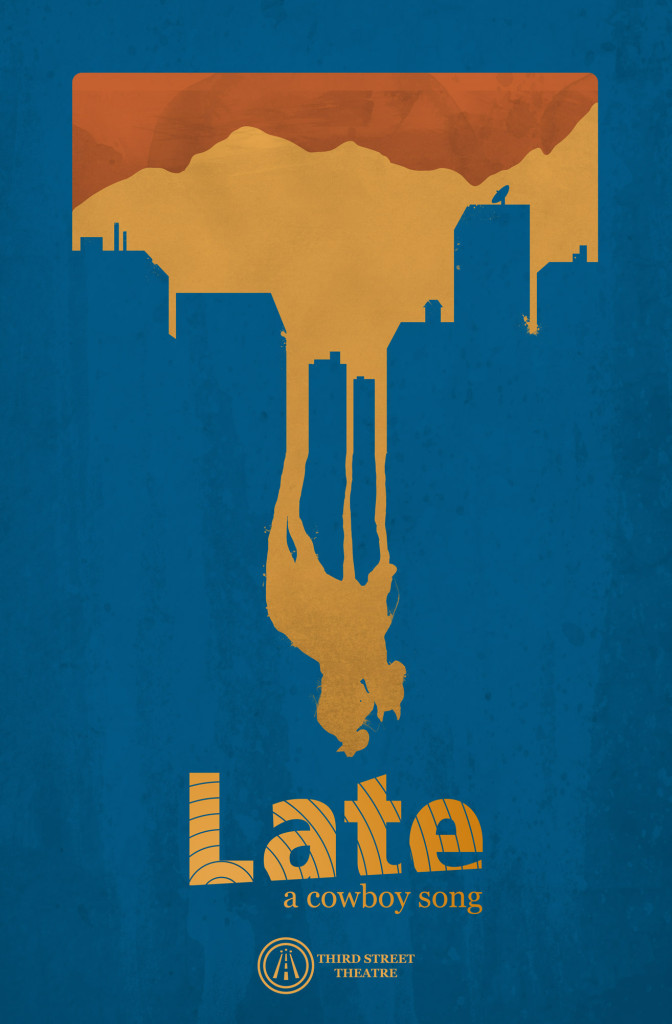 THIRD STREET THEATRE presents the Calgary Premiere of
Late, A Cowboy Song
Written by Sarah Ruhl
March 11 – 22nd, 2014
7:30 pm at Epcor Centre's MOTEL
2:00 pm Matinees: March 15, 16, 22
2 for 1 Preview: March 11 at 7:30pm

Directed by Alyssa Bradac
Assitant Director Jonathan Brower
Stage Manager Megan Letourneau
Set, Lights, Costume Design by Leon Schwesinger
Sound Design & Original Music Composition by Michael Wanless
Carly McKee as Mary
Geneviève Paré as Red
Kyall Rakoz as Crick
A life-affirming story about the search to find courage and authenticity in an increasingly cynical and pre-fabricated world by Tony Award nominee and Pulitzer Prize playwright, Sarah Ruhl. 
Mary, always late and always uneasy, is caught in a life full of societal expectations and spinning clocks. Mary must over-come her own expectations and fears, or risk losing her child, her well-being, and even herself. A show for all the cowboys of heart and mind who ride outside the city limits of convention.
2 Play Passes available for $40 at EPCOR CENTRE's Box Office. Gets you into any showing of Late, A Cowboy Song & The Passion of Sergius and Bacchus (April 23-May 3, 2014).
"Touching upon topics ranging from unemployment to physical and emotional gender identity, domestic violence, secrecy, true love, household chores, the freedom and power of horses, celebrations of holidays and the connection to real feelings that funny coincidences evoke…it is noteworthy that [orientation labels] are never spoken…But, in the absence of such labels, Ruhl's [characters] become both specific and universal." Paul Thompson, BroadwayWorld.com