Ludwig & Lohengrin returns to the Calgary stage FEB 24 – 28th at Arts Commons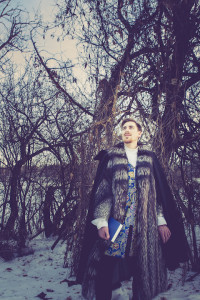 By Janine Eva Trotta, GayCalgary Magazine, February 2015
He was an enigmatic king, whose obsession with mythical story and Wagner's operas inspired some of the greatest castles erected, Neuschwanstein being the most well known. Seeking recluse, King Ludwig II of Bavaria had the latter edifice commissioned by his own funds, along with excessive borrowing, as a place in which to seek refuge. Though construction began in 1869, and ended over two decades later, the palace was never complete as King Ludwig died under mysterious circumstances. Even so, the castle was open to the paying public that same year.
It was whilst visiting this 'Romanesque Revival' palace, perched fantastically on the rugged hills of southwest Bavaria, Germany, that Calgary playwright and actor, Kyall Rakoz, became inspired to write a one-man play that would explore the legend of der Märchenkönig: the Fairy Tale King.
"Something about hearing the story and seeing the castle… it resonated with me," Rakoz said. As his tour guide regaled parts of the king's myth-like story images and ideas were striking the budding thespian in the head. "I was like ah; I think I need to write a show about this."

A picture of Neuschwanstein had always hung in the actor's home, from his parent's previous visit there, like a siren. Though Ludwig&Lohengrin was Rakoz's first solo project – this means first show written, directed and first time acting alone on stage – the show captivated its audiences at open, taking the Critics Award for Best Solo Performance at the Calgary Fringe where it debuted.
"I had no idea [it would be received so well]," he says. "For something that was so close to me it was scary to… [put on] that first run."
But the accolades encouraged Rakoz, and gave him the support he needed to continue to tour the piece for another summer of Fringe festivals, and to grow Ludwig&Lohengrin into what it is today.
"After doing it so long I've gotten a better rhythm for the show," he says. Third Street Theatre is presenting Ludwig&Lohengrin as its final show of the 2014/2015 season, running five days at the Motel Theatre at Arts Commons. Finally being performed on a permanent set – and not a Fringe one that needs to be set and struck within 15 minutes – means that Rakoz will perform under lights and with visual and sound aspects he didn't himself design.
"It's exciting for me to see what that creates," he says. Rakoz graduated in 2011 from the University of Calgary drama program and soon after participated in Third Street's creation ensemble to produce the acclaimed This is How I Left. Last year he starred in the company's rendition of Late, A Cowboy Song.
Though he says that after roughly 40 solo performances last summer his role did begin to get lonely, there is something liberating about being the only actor on stage.
"It was a really great challenge," he says. "I think I have developed a lot of great skills from [doing] it for sure." One of those is getting the audience back if you have lost them.
Audiences can expect to become pleasantly lost in the 17 characters Rakoz will play with nothing more than a white sheet that becomes a prop, a costume, a way to shadow puppet, and even a swan.
"It's this constant thing that I am interacting with," he says. "I always think of it as my acting partner for the show."
While some of the characters he portrays are humourous, and others more dramatic, not one will be the king himself.
"There are all of these people who talk about him… and yet, in reality, we know so little about him, and most of what we do know is from other peoples' perspectives," Rakoz explains. He designed the piece to play homage to that – to let the audience get to know Ludwig in that same way – with a magical essence of fairy tale and whimsy.
Into some of these characters Rakoz, admittedly, has inserted a bit of himself but, more so, he has endowed these characters with aspects he views in people that exist in his real life.
As for what comes next in his career, the actor answers, "I'm still enjoying performing this show," and adds that he is "waiting for inspiration to strike more than seeking something to write about."