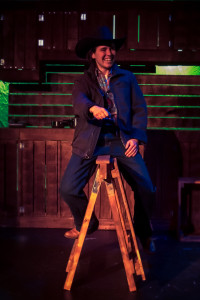 The 2014 Calgary Critics Award nominees were announced this morning and to our delight two artists involved with Third Street Theatre are nominated. 
Geneviève Paré is nominated for  Featured Actress in a Play for her role as Red in our March 2014 production of Late, A Cowboy Song, directed by Alyssa Bradac.
Red is the self-certain cowboy who lives on horse time in this 2004 play by American power-playwright Sarah Ruhl.
Critics said Geneviève's portrayal was splendidly played with charismatic cool and a confident simplicity where Pare was completely committed to Red's cowboy's-eye view of life without ever turning the character into a cartoon. They also noted that she can really sing a cowboy song as her role featured her singing & guitar playing skills during interludes within the show.
The nomination list for Featured Actress in a Play is:

Kandis Chappell – Major Barbara (Theatre Calgary)
Katey Hoffman – You Will Remember Me (Alberta Theatre Projects)
Genevieve Pare – Late, A Cowboy Song (Third Street Theatre)
Sarah Wheeldon – Twelfth Night (The Shakespeare Company)
Lindsay Burns – Camp Victoria (Lunchbox Theatre)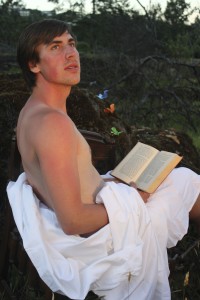 Third Street Theatre Artistic Associate Kyall Rakoz has also been nominated for a Critter Award for Best Solo Performance for his new show Ludwig&Lohengrin based on the eccentric life and mysterious death of "Mad" King Ludwig II of Bavaria (www.ludwigandlohengrin.com). Rakoz will be touring the show to Winnipeg, Edmonton, Vancouver and Melbourne this summer.
Critics called the show storytelling at its best that is sparkling and deliciously entertaining with brilliantly orchestrated design and direction by Rakoz himself.  His performance was lauded as one that is spirited, virile and hilariously played as he moves seamlessly from character to character, using only a sheet draped over a rack and an origami swan for props.
The nomination list for Best Solo Performance is:
Kyall Rakoz – Ludwig and Lohengrin
Tara Travis – Til Death, The Six Wives of Henry VIII 
Dave Kelly – Dad, Day 1 (Lunchbox Theatre)
Nathan Schmidt – Underneath the Lintel (Rosebud Theatre)
Chase Padgett – Nashville Hurricane

For a full list of  2014 Critter Award Nominees CLICK HERE