Third Street's the Charm: New queer theatre company wants to buck gay stereotypes
By Krista Sylvester, September 2012 Issue
Everyone loves Jack from television's Will and Grace but that doesn't necessarily mean every gay man is Jack or wants to be portrayed that way.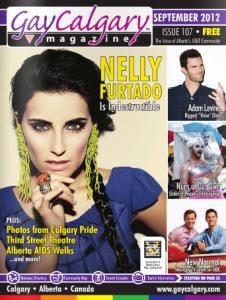 That's one of the reasons why creative duo Paul Welch and Jonathan Brower have joined forces to create Third Street Theatre, which is touted as Calgary's "queer theatre company". The two have very different backgrounds but come together as one when it comes to giving queer voices a stage.
Welch, at the reigns as the artistic director, says the theatre's mandate is to provide authentic and artful representation of queer content. In other words, they intend on bucking the standard stereotypes of homosexuality and queer characters in movies, plays and television shows.
"There is this pop culture representation of queers, which tends to be pretty stereotypical, like the flamboyant character or the self-repressed character," Welch says. "And there is a lot more to it than that. I think it's just familiar and fun and done for laughs, but we're more interested in showing the human side of being queer, not just the comedic side."
The newly-formed theatre company came to flourish at the Magnetic North Theatre Festival this summer in Calgary, when Welch and Brower reconnected. Although they've only known each other for about a year, they both have theatrical backgrounds and decided to turn their ideas into reality.
"We felt like the city was ready to have something like this again," Welch says referring to a former queer theatre in the city.
Third Street isn't the first queer theatre company in the city of Calgary, and hopefully it won't be the last, but Teatro Berdache paved the way for companies such as this to exist. Led by Steve Gin, the company lasted about eight years between 2000 and 2008, and Welch hopes Third Street can do the same.
"I think Steve really paved the way for queer theatre in the city and broke down some barriers. I think the timing is right."
And it couldn't come at a better time, considering Alberta's premier Alison Redford spoke at the Calgary Pride Festival this month, becoming the first Alberta Premier ever to do so. And with an estimated record attendance of over 20,000 people at the parade, it seems Calgary may be ready to sustain a queer theatre company.
"I think we [have] seen a niche market that is being unfulfilled and we want to foster it," Welch says. "We think it's a good opportunity to foster queer talent and create work. And we have a pretty ambitious season ahead of us."
Even the theatre company's chosen name has a queer symbolism to it, referring to the non-existent "Third Street" (there is no street between 2nd and 4th Streets southwest) in trendy Mission, which is symbolism for the sometimes minority status of homosexuals who often feel unrecognized.
While Brower and Welch "[explore] what it means to be human" – which is their motto – they also promise to bring impactful stories to the stage through their art. But that doesn't mean only people who identify as homosexual will be interested; the creative duo want to explore life issues such as sexuality and faith.
Besides bringing the Lesbian, Gay, Bisexual, Transgendered and Queer (LGBTQ) voices to the stage, Third Street wants to provide a mentorship to the next generation of queer actors, directors, producers and playwrights.
"The next generation will be starring in and producing and writing theatre so it would be very positive to help cultivate some of that talent," Welch says. "We definitely want to focus on cultivating talent. I think it's quite important because the queer community doesn't seem to be coming out to theatre but maybe it's because their stories aren't being told. And we want to tell those stories."
And the hope is to reach out to the queer community and get more of the community involved, not only as audience members but also participants.
"We're both very passionate and determined people and we're really hoping after this year we see what is successful and what's not and make it even better for next year, but right now we want to get the word out and let people know. "
The inaugural season kicking off now is accepting applications until September 15th for a "queer theatre creation ensemble" that will meet regularly to develop skills and professional development until a public performance in March, 2013. It's also open to anyone who is queer-minded, meaning you don't necessarily have to be gay but you should be open to queer ways of thinking.
Third Street is also currently launching a playwriting competition this month and the winning entry will participate in a two-day workshop with professional actors and a staged reading of their work. The deadline for submissions is February 1st for the competition.
"It's a great avenue to let someone get their chance," Welch says.
And finally, those who want to see what Third Street has to offer can watch Welch perform in the spring in a one- person show directed by Ground Zero Theatre's artistic association director Kevin McKendrick. The show is planned for the Motel space in the EPCOR centre at the end of April.
More information about the theatre company can be found on their website, Facebook, and Twitter.