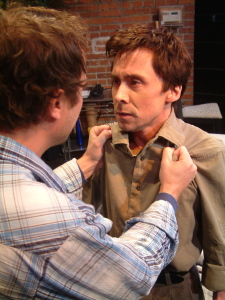 Dear Mr. Klein: Special 10th Anniversary Reading & Queer Rights Panel

Part of the queerRites Reading Series
Thursday, November 6 at 6:30pm.
At Contemporary Calgary (Stephen Avenue location)
Admission by donation.
Join the FaceBook Event
Dear Mr. Klein was first produced in November 2004 at The Pumphouse Theatres by Teatro Berdache, Calgary's first gay, lesbian and two spirited theatre ensemble. This 10 year anniversary reading will be followed by a special panel to discuss Alberta's policies on queer rights and how we are faring as a city and province 10 years after the play premiered and 16 years after the Delwin Vriend decision (see below for more).
PLAY SYNOPSIS
Country boy meets city boy in this collision between an openly gay Calgarian and a handsome rural cowboy. Set against the real life events of the pivotal Delwin Vriend decision of 1998, where Alberta was ordered by The Supreme Court of Canada to further protect gays and lesbians in their Human Rights Code because of a teacher being fired for his sexual orientation as a gay man.
This 10yr Anniversary Reading & Panel is coupled with Contemporary Calgary's Kim Dorland "Homecoming" exhibit running until January 18th, 2015. Dorland's art reflects many of the poignant formative moments in Kim's early adulthood in Alberta. The Dear Mr. Klein commemorative reading and panel on queer rights, when set against the Dorland exhibit, highlights and accentuates Dorland's artistic focus where he pushes the boundaries of representation through exploration of memory, material, nostalgia, identity and place.
INSPIRATION FOR THE PLAY
Playwright Bruce Chambers originally called his play Dear Mr Klein because he noted that homophobia in Alberta in the early 2000s largely hinged around then Premier Ralph Klein's public behaviour and stances as an elected official. Klein was somewhat notorious for making threats and in turn giving others permission to think that there was something wrong with gay rights. Chambers (and many others) noticed Klein had instigated a huge hate dialogue−especially on radio talk shows−but was ultimately shown to be hypocritical because he back-peddled his rhetoric immediately when the Supreme Court of Canada ruled in favour of Mr. Vriend stating that the Charter of Rights and Freedoms had been breached and sexual orientation would now be added to the Alberta Individual Rights Protection Act (IRPA).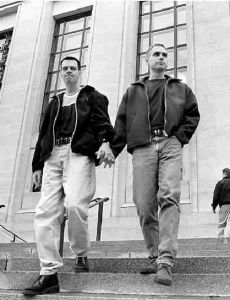 VRIEND vs. ALBERTA: The Delwin Vriend Decision Backstory
The Vriend decision was pivotal to point out that sexual orientation was not part of the Alberta Individual Rights Protection Act (IRPA). Delwin Vriend launched the original lawsuit against Alberta because when he went to argue his right for job protection when after being dismissed because of his sexual orientation, he found that there was no protection for gays and lesbians in the Alberta Individual Rights Protection Act. The case spanned 7 years and the Alberta Government under Klein's leadership was vocally opposed to having sexual orientation being read into the IRPA. Because of the opposition, the case went to the Supreme Court of Canada. Criticism across the country resounded in sentiments like the following: "It is a sorry day for the Province when the Government of Alberta is so committed to discrimination that it has to be dragged before the highest court in the land rather than extend equality." Opponents of the Vriend vs. Alberta case were bold enough to argue sentiments such as: "We believe that lying, adultery, fornication, drunkenness are harmful and so is homosexuality…"
Finally in 1998, the Supreme Court determined that the Alberta Individual Rights Protection Act violates the federal Charter of Rights and Freedoms. They "read into" the existing law a clause giving equal rights for persons of all sexual orientations. Defeated, Premier Klein did an about-face from his previously vocal opposition to the case and stated, "Right or wrong, I've drawn my line in the sand. I've said personally I feel good about it. I feel comfortable, that I will accept the ruling. I think it's wrong, morally wrong, to discriminate on the basis of sexual orientation." His about-face was in direct opposition to many of his previous statements.
After the decision was finalized, Albertan anger appeared to be the wide held opinion in the media towards Vriend, Klein and the Supreme Court. The outrage centered around the sentiment that the ruling was intrusive and activist bent and that the courts shouldn't be allowed to make decisions for politicians. The well-known Dave Rutherford radio program in Calgary covered the ruling, on which responses ranged from, "a prediction that this ruling is the first step on a slippery slope towards moral decrepitude; others said it was a watershed in Alberta's growth towards a just society; others were angry that unelected judges at the Supreme Court are pushing the province around. Several listeners were particularly distressed because they feel that the ruling will lead to schools teaching tolerance towards gays and lesbians. Many quoted the usual Bible passages often interpreted by conservative Christians as condemning gays and lesbians."(ReligiousTolerance.org).
Edmonton's Kings College, Vriend's former employer, reacted to the ruling by stating, they "have the right to offer employment only to heterosexuals, and to fire homosexuals wherever they are found." Many conservative religious organizations lobbied for Klein to invoke the notwithstanding clause−a clause that exists to this day that allows governments in Canada to revoke rights and freedoms and has been criticized as making the Charter of Rights nothing more than a scrap of paper−to appeal a reverse in the decision, but Klein refused to budge after the nation criticized the tolerance and equality standards of the Alberta government. In spite of sexual orientation being "read into" the IRPA back in 1998, it wasn't until 2010 that  the new human rights code for Alberta actually physically had the words "sexual orientation" written into it.