This is How I Left & I Am My Own Wife Receive 3 Calgary Critics Award Nominations
See the full nomination list here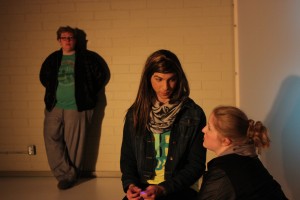 The 2013 Calgary Critics Award nominations were released today and both of our productions from our very first season were nominated. Below are the categories they have been nominated in. We are incredibly proud of our first season and to everyone who made it such a success. A special congratulations to our first ever Queer Theatre Creation Ensemble Conrad, Alyssa, Dale, Lindie, Kyall and our facilitator Paul, whose collaboration on the script for This is How I Left was just recognized by the professional theatre critics of Calgary. Congrats to all the nominees & companies for an amazing 2012-2013 Season!
Best New Script
Sequence by Arun Lakra (Downstage)
People You May Know by One Yellow Rabbit Creative Ensemble
Second Chance, First Love by Caroline Russell-King (Lunchbox)
This Is How I Left by Third Street Theatre Creative Ensemble
May and Joe by Morris Ertman. Heather Pattengale and Paul Zacharias (Rosebud Theatre)

Best Actress in a Play
Denise Clarke – People You May Know (One Yellow Rabbit)
Julie Orton – Scarlet Woman (Lunchbox Theatre)
Alyssa Bradac – This is How I Left (Third Street Theatre)
Karen Robinson – Intimate Apparel (Alberta Theatre Projects)
Genevieve Pare – Polygraph (Sage Theatre)
Best Solo Performance
Paul Welch – I Am My Own Wife (Third Street Theatre)
Haysam Kadri – Bashir Lazhar (Downstage)
Chantal Perron – Aviatrix (Lunchbox)
Heather Pattengale – Badger (Theatre BSMT)
Monice Peter – The Dandelion Project (Verb Theatre)