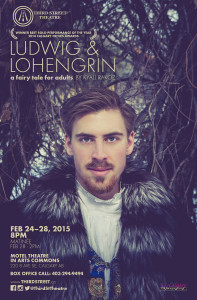 LUDWIG & LOHENGRIN a fairytale for adults
by Kyall Rakoz
February 24 – 28, 2015 at 8pm
Matinee on Saturday, February 28th at 2pm
**Closing night is already SOLD OUT!
Motel Theatre in Arts Commons
205 8 Ave SE.


Critical acclaim has followed the show since its debut in 2013, garnering rave reviews including a 4.5 Star reviews from the Edmonton Journal and the Winnipeg Free Press.
WINNER: Best Solo Performance of the year at the 2014 Calgary Critics Awards.
Based on historical events, this one-man show offers a glimpse into Ludwig's enigmatic world, brining to life a timeless story that speaks to the struggle between desires of the heart and societal expectations through poignant and comedic storytelling.
Ludwig&Lohengrin is the story of Ludwig the second, a Bavarian King renowned for his patronage of the arts—in particular the operas of Wagner— his fascination with building fantastical castles and his obsession with fairytales.
This piece is unique in that Rakoz, the director, designer, playwright and performer, uses little more than a white sheet and paper swan to play 17 characters who all want to weigh in about the so-called "mad" or "swan" King.
Selected Press Reviews
"4.5 Stars…a deliciously entertaining show….Wunderbar!" – Edmonton Journal
"In what can almost be described as linen choreography, Rakoz twists, bends, shakes out, drapes and rewinds the sheet again to have it serve every costume and set purpose he needs. At one point it's the backdrop for a shadow puppet rendition of the Lohengrin fairy tale, next thing it's a skirt so perfectly conceived that it even has the time appropriate rear bustle." – Jessica Goldman, CBC EyeOpener 
"Ludwig and Lohengrin is a perfect example of how one person onstage, telling an interesting story, can make for gripping theatre. The show is dramatic, it's funny and it's poignant." – Kathleen Renne, FFWD Calgary 
"a triumph of concept, staging, writing and acting for Kyall Rakoz, a Calgary actor who is one multi-talented young man…miss this one at your own peril!" – Louis B. Hobson, Calgary Sun
One of the top 10 Must-See Calgary Fringe shows – Stephen Hunt, Calgary Herald
"Rakoz's ability to carry his audience through the narrative is outstanding…Ludwig & Lohengrin is storytelling at its best." – Jenna Shummoogum, Online Blogger & Theatre Critic 
Social Media 
@LudwigofBavaria @ThirdStTheatre #TSTLudwig
www.ludwigandlohengrin.com
Show History
Calgary Fringe  (2013)
Edmonton Fringe (2013)
Winnipeg Fringe (2014)
Edmonton Fringe (2014)
Vancouver Fringe (2014)
Melbourne Fringe, Australia (2014)
Creative Team
Written, Directed, Created & Performed by Kyall Rakoz
Set, Costume & Lighting Design / Leon Schwesinger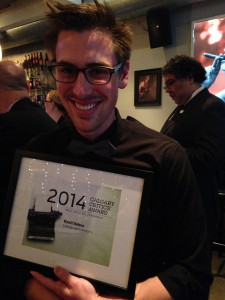 KYALL RAKOZ

Kyall Rakoz is a graduate from the University of Calgary with a BFA in Drama. He works with youth during the days creating original theatre pieces with Trickster Theatre all over Alberta. He is also a musician and dancer, having recently taken up Boylesque under the pseudonym Bunbury Steele. Recent acting credits include Late a Cowboy Song, This is How I Left (Third Street Theatre), The Servant of Two Masters (Beyond the Brink Productions), Five Women Wearing the Same Dress, Pink Sugar (Theatre BSMT), The Goodbye Day (Theatre Transit), and Far From Crazy (Rabid Marmot Productions).