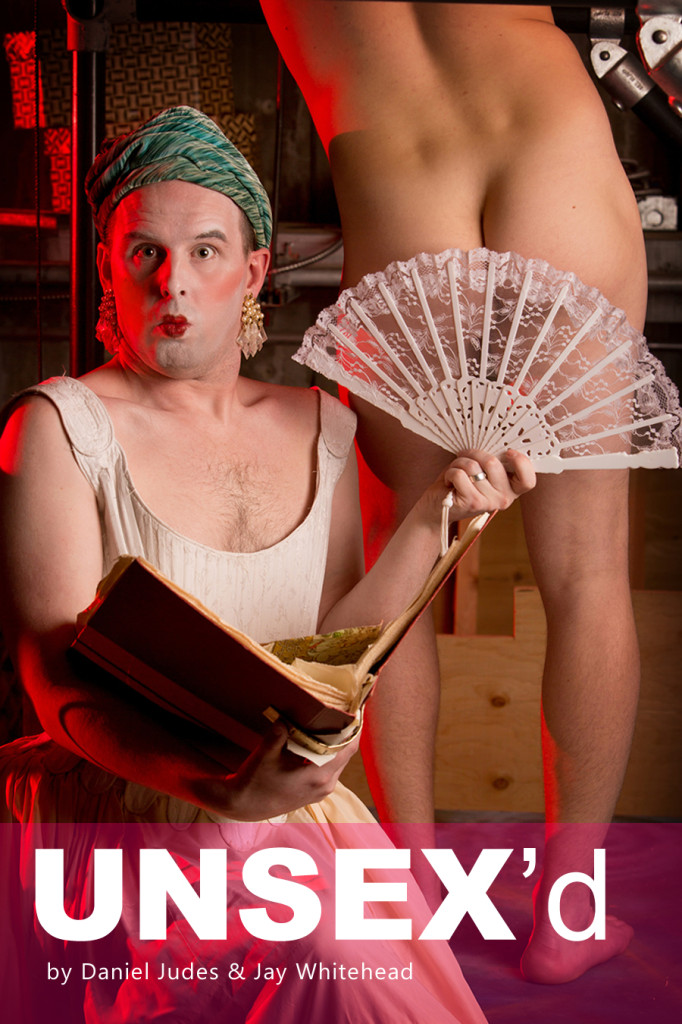 UNSEX'd 
Oct 29 – Nov 2 at 7:30pm. Matinee at 2pm Sat Nov 2nd
Written By Jay Whitehead & Daniel Judes
Presented by
Third Street Theatre & Theatre OUTRE
6 SHOWS ONLY. Don't miss this Haunting & Hilarious Tale; THE perfect way to celebrate the Halloween season!
Playing at MOTEL in the EPCOR CENTRE for the Performing Arts.
Tickets Online $17-24
Cash at the Door $20-25
Running time: 75min
UNSEX'd returns to a time when men played all the roles in theatre and tells the madcap story of two boy-players who fight it out for the role of Lady Macbeth in Shakespeare's newest play. Both will do anything, anything, to catch the eye, and affections, of the playwright. This cheeky comedy is one part All About Eve, one part Macbeth and all parts E! True Hollywood Story. Completely historically inaccurate, satirically biting and gratuitously crude, UNSEX'd also has a haunting dark side that questions fame, gender, and the truth about beauty. This show is for everyone from Shakespeare buffs to celebrity stalkers to camp and drag enthusiasts, and even that person who likes their humour just a little bit over the line (or a lot over).
"a riot of colour, action and comedy" (Gordon Farell, EILE Magazine)
"turns Shakespeare on its tits!" (Brian Merriman, Artistic Director of IDGTF).
CREATIVE TEAM
Directed by Richie Wilcox
Sound Design by Aaron Collier
Set and Costume Design by David Barrus
Lighting Design by Robert Stanford
Promotional Design by John de Stigter
Starring Adam Beauchesne and Jay Whitehead
Co-Produced by Third Street Theatre
RECOGNITION
Winner of Third Street Theatre's 2013 national New Queer Playwriting Competition.
Winner of Best of Fest at Atlantic Fringe Festival.
Nominated for the Oscar Wilde Award for new writing at the International Dublin Gay Theatre Festival 2013.
AUDIENCE ADVISORY
Contains mature content & nudity.