We are thrilled to announce the title of our inaugural production in our very first season!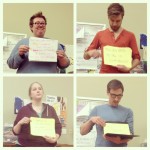 Our Queer Theatre Creation Ensemble has been hard at work weaving together relevant, beautifully deep and moving characters. Their interlinking stories produce a piece about being awakened to love only to face loss. This piece is extremely unique and timely as it its narrative deals with pansexual, transgendered and trans issues.
The show will make its world premiere March 28 – 31st at Living Spirit United Church, 629 49th Ave SW.
Nightly shows March 28-30th @ 7:30PM
Daily Matinees March 30 & 31st @ 2:00PM
TICKETS:
At the door. Cash only
$20 Admission, $15 for Students/Seniors/Equity
More details to come!
~ The Third Street Team