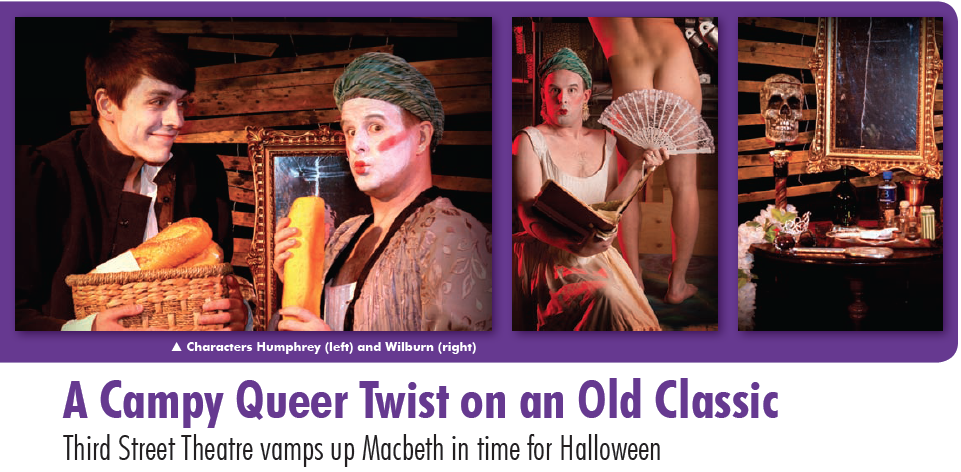 With its first production of the year Third Street Theatre is offering audiences a fun new spin on a Shakespearean definitive with the show Unsex'd, written by Jay Whitehead and Daniel Judes.
This show has already raked in several awards including winner of the Third Street Theatre company's New Queer Theatre Playwriting Competition last year, as well as Best of Fest at the Atlantic Fringe which takes place in Halifax. It also played seven shows at the Dublin International Queer Theatre Festival where it received three nominations for Best Acting, Best Production Values and Best Writing, and in Lethbridge was put on and produced by Theatre Outré.
Now it will have its premier run in Calgary, presented along with Theatre Outré, at the Motel at the Epcor Centre for the Performing Arts October 29th to November 2nd.
"I always had this idea to write a play about two Shakespearean boy players who were like Paris Hilton and Nicole Richie," says Whitehead, on a part of what inspired this male casted rendition.
Whitehead and Judes were both enrolled in graduate programs at York University where their 'witty raport' and 'Absolutely Fabulous' way of banter was doted as too effeminate to allow them to play heterosexual roles in school theatre projects. This is when Whitehead began exploring the Elizabethan era; a time when a feminine man was perceived as great value to the theatre stage for his aptitude to perform a female role.
The two thespians agreed, a plot in which two such feminine-traited boy players were vying for the same stage role could be one of interest. Summoning the rivalry in All About Eve and their real life battles on the nightclub scene, a script was born in which two actors compete for the role of Lady Macbeth. Set in the 17th Century, the play offers a funny look at the passionate, and dogged, attempt each actor will make to steal the Bard's favour and conquer the role of a lifetime. 
"I think this show is a fun twist on the infamous curse on Macbeth," says Paul Welch, Artistic Director at Third Street Theatre. "There have been so many different superstitions around Shakespeare's work, that it's interesting to see a campy, queer version of the origins of the curse."
Artistic Producer Jonathan Brewer says he hopes the timing of the show dates, surrounding Halloween, will inspire audience members to attend performances in costume. "Maybe even Elizabethan drag?" suggests Welch. "Who knows!"
Gordon Farrell, for Elle Magazine, calls Unsex'd a "fast-paced, slapstick comedy with great acting and production values … a riot of colour, action and comedy."
Seat fares range from $17.55 to $24.60. Evening performances begin at 7:30pm with one matinee scheduled for Sunday, November 2 at 2pm. For tickets visit www.epcorcentre.org
By Janine Eva Trotta, October Issue, Gay Calgary & Edmonton Magazine