Bring oblivion to your community.
Expand the conversation about faith & LGBTQ+ identity
BOOKING
For Alberta bookings, contact Third Street Theatre through info (at) thirdstreet.ca
For Ontario bookings, contact collective oblivion through jduncanbrower(at) gmail.com 
UPCOMING DATES
+ Calgary, AB – March 25 at 7pm | Red Deer Lake United
+ Red Deer, AB – March 26 at 7pm | Gaetz Memorial United
+ Toronto, ON – April 1 at 7:30pm | First CRC & Generous Space
+ St. Catharines, ON – April 2 at 7pm | Jubilee Fellowship
PROMO PACK
Download the promotional pack here for more details about the show.
oblivion by Jonathan Brower – 2017 Promo Pack
PRAISE
"The piece speaks to everyone, no matter orientation, age or background"
~ Samantha MacDonald, Lunchbox Theatre Associate Artistic Producer
"Raw, authentic, and worth seeing. If you are battling between your true self and your faith, you must watch oblivion. You are not alone."  ~ Pace Anhorn, Hillhurst United Church Youth Leader
"There wasn't a dry eye in the place…meaningful and timely. As we as societies, cultures, and religious groups wrestle with understanding and acceptance, this is the story that will build those bridges."
~ Sarah T, Third Street Theatre patron
DESCRIPTION
oblivion is a semi-autobiographical play that beautifully portrays the complexities surrounding faith and queer identity. Step into a pivotal moment in the life of Tim, a gay man who has left the conservative church and reparative therapy behind to try and reconcile his faith and his sexuality. Paralyzed by his past, Tim stands at a crossroads where he must decide the future of his faith before it destroys him.
oblivion is a unique opportunity to collectively witness a true to life story about faith and sexual orientation. To react, respond and ask hard questions and then decide how this experience will affect the way you approach your own life and the lives of those in your community.
ABOUT THE FORMAT
oblivion is a staged reading presented in two acts. 
Act One is a 60-minute staged reading where professional actors interpret the play with the script in their hands.
Act Two is a conversation with the audience. In past performances, the conversation has lasted 45-60 minutes but exact timing is up to the presenter. This act allows for reflection, feedback and dialogue and is an opportunity for audience members to tell their own stories, ask questions of the artists, and digest what they have just witnessed together.
ABOUT THE PLAYWRIGHT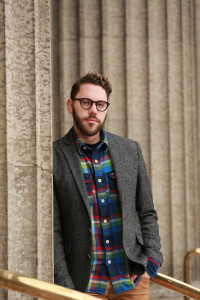 oblivion is the most important play Jonathan has ever written. He feels it holds the power to open the hearts of many without vilifying the humanity and faith of those closest to the story. Jonathan is the Artistic Director and co-founder of Third Street Theatre, Calgary's only queer Theatre Company dedicated to the positive reflection of queer culture, stories and values on Calgary stages. He holds a Bachelor of Arts in Communication Studies and a Bachelor of Fine Arts in Drama from the University of Calgary. He has just received a 2015 Arch Award from University of Calgary for outstanding alumni achievement.
Jonathan has also worked in full time ministry, communications, broadcasting, journalism, marketing, arts administration and human resources. A born and raised Calgarian now living in St. Catharines, Ontario, Jonathan is passionate about theatre as a vehicle for discussion, education and activism. He is a publicist, producer, actor, writer and musician.
READ THE PLAY
Request a draft of oblivion by emailing Jonathan
INTERESTED IN BOOKING OBLIVION?
Bring oblivion to your community! Please inquire by emailing Jonathan
---
PAST PRESENTATIONS
> Q Faith Community
May 15, 2016 
At Evergreen Studios, 1709 8 Ave NE, Calgary.
>HumanRites Conference
April 29, 2016 
Wildrose United Church, 1317 1 St NW, Calgary.
>Knox Presbyterian Church
April 16, 2016
3704 – 37 St SW, Calgary
>St Stephen's Anglican Church
April 15, 2016 
1121 14 Ave SW, Calgary
> Ambrose University
February 25, 2016
The Collegium, 150 Ambrose Circle SW, Calgary
>McDougall United Church as part of their Affirming Process.
February 20, 2016
8516 Athabasca St. SE, Calgary
> University of Calgary's Sexual Gender & Wellness Week 2016, 
February 2, 2016
F.R. Matthews Theatre in Craigie Hall F101, Calgary
>Hillhurst United, Pride Week Celebrations
September 5, 2015
Hillhurst United Church, Calgary
>SpiritPRIDE: LGBT Spirituality Conference
July 25, 2015
St. Andrews-Wesley United Church, Vancouver BC
> the frank theatre company (2014-2015 Season)
March 11, 2015 
St. Andrews-Wesley United Church, Vancouver BC
> ND Theatre at the University of Calgary School of Creative and Performing Arts
March 3-5, 2014 
---
OBLIVION IN THE NEWS
Oblivion | Doug Dirks for CBC Radio's The Homestretch
Calgary reading delves into being openly gay and religious
Jeremy Simes, MetroCalgary
Gay and Evangelical Christian: can a person be both?
Steve Schelling, DailyXtra World News
For audience feedback & photos visit: https://www.facebook.com/media/set/?set=a.783818238412891.1073741835.215473748580679&type=3