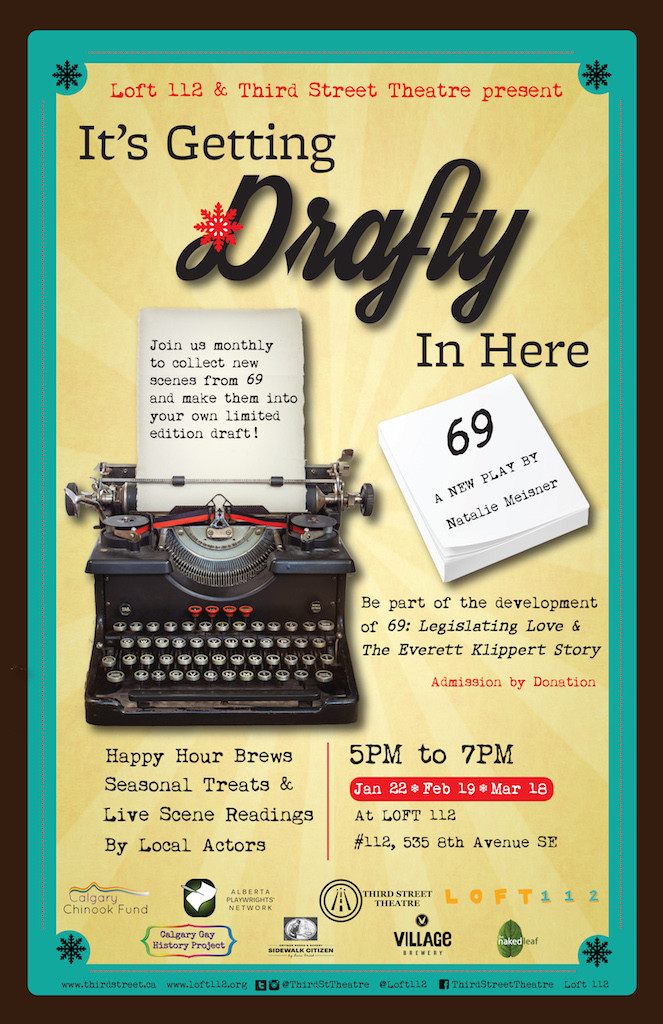 Winter reading series brings a distinctly Calgarian play to life in the East Village
Third Street Theatre and Loft 112 are about to bolster the happy hour in the East Village all with the intent to help grow a new LGBTQ+ Calgary play. The series, titled It's Getting Drafty In Here, makes light of the chilly weather, the multiple drafts that accompany a new play in development, and of course the happy hour draught. Each event will have local actors reading newly drafted scenes, historians giving mini history lessons about Calgary's LGBTQ+ past, and as a bonus, participants will get to take a piece of the play home with them. It's Getting Drafty in Here takes place January 22, February 19 and March 18, 2016 from 5-7pm at Loft 112 (#112, 535 8 Ave SE ). Admission is by donation.
The play in developoment is 69: Legislating Love & The Everett Klippert Story by local Calgarian and Mount Royal University professor, Natalie Meisner. It will have its world premiere produced in a future Third Street season. Mesiner, Third Street Theatre's Playwright-in-Residence, was commissioned to write a truly Calgarian story that speaks to resilience, transcends time, and honours our queer past by incorporating the research findings of The Calgary Gay History Project. The play takes place in two time periods, Calgary in the 1950s & 60s and present day. The series aims to build community by helping us understand our collective history, the importance of our elders and to honour those who have paved the way to the freedom we now have.
Attendees of the series can collect the scenes that premiere and combine them into their very own limited edition copy of the play. Snacks and tea will be available from Sidewalk Citizen Bakery and The Naked Leaf and beer for purchase from Village Brewery.
This series gives us a chance to have our audience weighing in right from the beginning. It's rare we get to do that in theatre but I wanted to give the opportunity early on because some will have insight into Calgary life in the 50s & 60s – even what it was like to be LGBTQ+ during that time.