Dear Mr. Klein by Bruce Chambers
November 6th, 2014 | 6:30pm
Contemporary Calgary
Special 10yr Anniversary Reading & Queer Rights Panel
Country boy meets city boy in this collision between between an openly gay Calgarian and a handsome rural cowboy. Set against the real life events of the pivotal Delwin Vriend decision of 1998, where Alberta was ordered by The Supreme Court of Canada to further protect gays and lesbians in their Human Rights Code.
Dear Mr. Klein was first produced in November 2004 at The Pumphouse Theatres by Calgary's Teatro Berdache (the first gay & lesbian theatre ensemble-early 2000s). This 10 year anniversary reading will be followed by a special panel to discuss Alberta's policies on queer rights and how we are faring as a city and province 10 years after the play and 16 years after the Dewin Vriend decision.
Bruce Chambers, Playwright
Chambers, who grew up in Sundre, a town of 2000 people northwest of Calgary, is familiar with the rural mindset, where homosexuality "does not exist." He says, "coming out in a small town was pretty much impossible; you never see any gay people and there is a lot of fear of the unknown. [He] even had Myron Thompson [an outspoken, homophobic member of Parliament] as a teacher – a man who said that there were no gay people in his riding!" Chambers called this play Dear Mr Klein because homophobia in Alberta in the 90s & 00s largely seemed to hinge around the Premier's behaviour. Chambers explains. "By making the threats [Klein did], he gave everyone permission to think that there is something wrong with gay rights. He cause[d] a huge hate dialogue, especially on radio talk shows-and ultimately he [was] hypocritical, because in the end he went along with the Supreme Court ruling on the case. Why put everyone through the hell?"
________________________________________________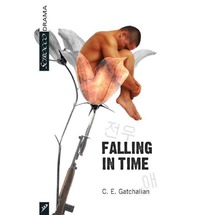 Falling in Time by Chris Gatchalian
July 2nd, 2014 at The Naked Leaf at 8:15 pm
Tea donated by Jonathan Kane of The Naked Leaf. Admission by donation.
Raw in its emotionalism and bold in its theatricality, Falling in Time is set in Vancouver in 1994 and tells the story of four individuals, across two continents and over a span of more than forty years. The lives of these characters miraculously intertwine in Vancouver playwright C.E. Gatchalian's uncompromising meditation on war, masculinity, sexuality, personal boundaries, and love. Falling in Time asks the question, "how do we let go?"
Chris Gatchalian, Playwright
Born, raised and based in Vancouver, Filipino-Canadian author C. E. Gatchalian writes drama, poetry, fiction and non-fiction. His plays, which include Broken, Crossing, Claire and Motifs & Repetitions, have appeared on stages nationally and internationally, as well as on radio and television. Recent work includes his play for young audiences, People Like Vince, which was commissioned by Green Thumb Theatre and toured BC, Saskatchewan and Ontario, and his latest play, Falling in Time, which premiered in Vancouver in November 2011, was published by Scirocco Drama/J Gordon Shillingford in 2012 and was a finalist for the Lambda Literary Award. He is the 2013 recipient of the prestigious Dayne Ogilvie Prize, awarded annually by The Writers' Trust of Canada to an LGBT writer of merit. He is currently Artistic Producer of the frank theatre company.