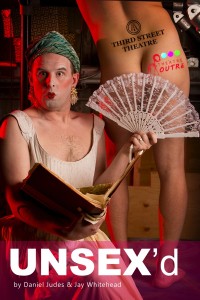 Unsex'd
October 29 – November 2, 2013
EPCOR CENTRE's Motel. 7:30pm
Co-presented with Theatre OUTRE

Set in the 1600s, two Elizabethan boy players vie for the role of a lifetime in the Bard's newest play, Macbeth. "Unsex'd was a hit at both the International Dublin Gay Theatre Festival and the Atlantic Fringe Festival.
Starring Jay Whitehead & Adam Beauchesne
Directed by Ritchie Wilcox
Set & Costume Design by David Barrus
Sound Design by Aaron Collier
Lighting Design by Robert Stanford
*Winner of our 2013 New Queer Playwriting Competition.
↔↔↔↔↔↔↔↔↔↔↔↔↔↔↔↔↔↔↔↔↔↔↔↔↔↔↔↔↔↔↔↔↔↔↔↔↔↔↔↔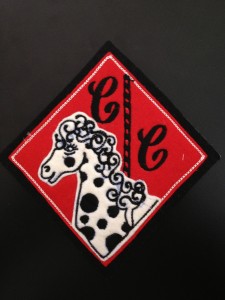 Club Carousel: A Celebration of Calgary's Gay History
January 30th, 2014 at 9:30pm
The Big Secret Theatre
Tickets $30
Co-presented with the Calgary Gay History Project and the High Performance Rodeo. Facilitated by Jonathan Brower & Paul Welch
"We invite audiences to connect with and celebrate Calgary's LGBTQ history. It's important to know how we got here and we want people to know we are proud of that," says Artistic Producer, Jonathan Brower. The cabaret will feature themed performances as well as a special guest panel discussion on the evolution of Calgary's queer community.
*We cordially invite our Calgary LGBTQ elders to come out to this event for a Club Carousel reunion of sorts.
↔↔↔↔↔↔↔↔↔↔↔↔↔↔↔↔↔↔↔↔↔↔↔↔↔↔↔↔↔↔↔↔↔↔↔↔↔↔↔↔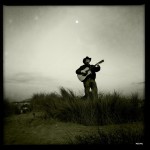 Late: A Cowboy Song by Sarah Ruhl
March 12 – 22, 2014, 7:30pm
2pm matinees March 15, 16 and 22nd
MOTEL in the EPCOR CENTRE for the Performing Arts.
Directed by Alyssa Bradac
Set, Costume & Lighting Design by Leon Schwesinger
Mary, always late and always married, is caught in a battle between societal expectations and experiencing true freedom. This show is for all the cowboys of heart and mind who ride outside the city limits of convention; a story about the search to find authenticity and true love outside the box.
↔↔↔↔↔↔↔↔↔↔↔↔↔↔↔↔↔↔↔↔↔↔↔↔↔↔↔↔↔↔↔↔↔↔↔↔↔↔↔↔

The Passion of Sergius and Bacchus
by The Queer Theatre Creation Ensemble
April 22 – May 3, 2014, 7:30pm
2pm matinees on April 26, 27, and May 2nd
MOTEL in the EPCOR CENTRE for the Performing Arts.
Facilitated by Paul Welch
Set, Costume & Lighting Design by Leon Schwesinger
"In 300 AD, two Roman soldiers covertly joined the secret sect of Christianity, where their love was united in a brother-making ceremony," says Welch. "When the Romans found out, the two were executed for their religious beliefs and later canonized as paired saints. It's an incredibly controversial and unexpected spin on our understanding of traditional partnerships, and I cannot wait to explore this topic further."