2012 – 2013 | Third Street Theatre's Inaugural Season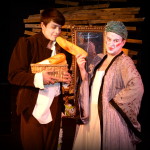 March 20, 2013 – UNSEX'd Staged Reading
UNSEX's by Jay Whitehead & Daniel Judes was the winner of our first annual New Queer Playwriting Competition. It received a public staged reading with direction by Kate Newby, featuring David Beazely & Danieal Mallett at Lunchbox Theatre's TransCanada Stage.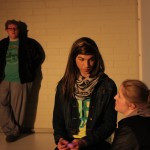 March 28 – 31, 2013 – This Is How I Left by the Queer Theatre Creation Ensemble
Public performances of This Is How I Left took place at Living Spirit United Church. This production was the world premiere of this original work created in-house by our Queer Theatre Creation Ensemble over a six month period. The play investigates the after effects of being awakened to love and then losing the one who brought you to life. We hope to remount this production in the future. If you are interested in helping make this happen please contact us.
The production featured Ensemble co-creators/performers Conrad Bernhard Belau, Alyssa Bradac, Lindie Last, Kyall Rakoz. The entire Ensemble included co-creator/participant Dale Lee Kwong, Stage Manager Courtney Charnock, Director/Facilitator Paul Welch, Designer Eugenio Saenz and Producer Jonathan Brower.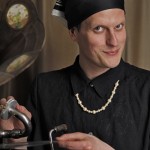 April 24 – May 4, 2013 – I Am My Own Wife by Doug Wright
Performances of the one-man show I Am My Own Wife happened at Motel in the EPCOR CENTRE for Performing Arts. It is a fascinating one-man solo show that asked the question, "Does legacy overlook human imperfection?" The play examined the life of infamous German antiquarian and transvestite, Charlotte von Mahlsdorf, who outlived Nazi and Communist regimes in East Berlin while openly transgendered.
The show featured Third Street's Artistic Director Paul Welch, Directed by Kevin McKendrick, Assistant Directed by Jonathan Brower, Set/Costume/Prop Design by Deitra Kalyn, Lighting Design by David Smith, Sound & Titles Design by Trevor Leigh.
The show played to sold out houses at Motel theatre with such success that there is the potential of a remount or a tour in the very near future.